I thought I would start the New Year by sharing with you some of my

favourite

makeup products I

Loved

throughout the month of

January

. While everyone has been watching their wallets, I have been trailing the makeup counters on the hunt for some new products and I haven't been disappointed.
My makeup routine doesn't always change from month to month, I have my staple's that I tend to use continuously before switching but I love it when I discover something new and am always on the hunt for exciting new makeup discoveries. So without further ado here are my

January favourites

.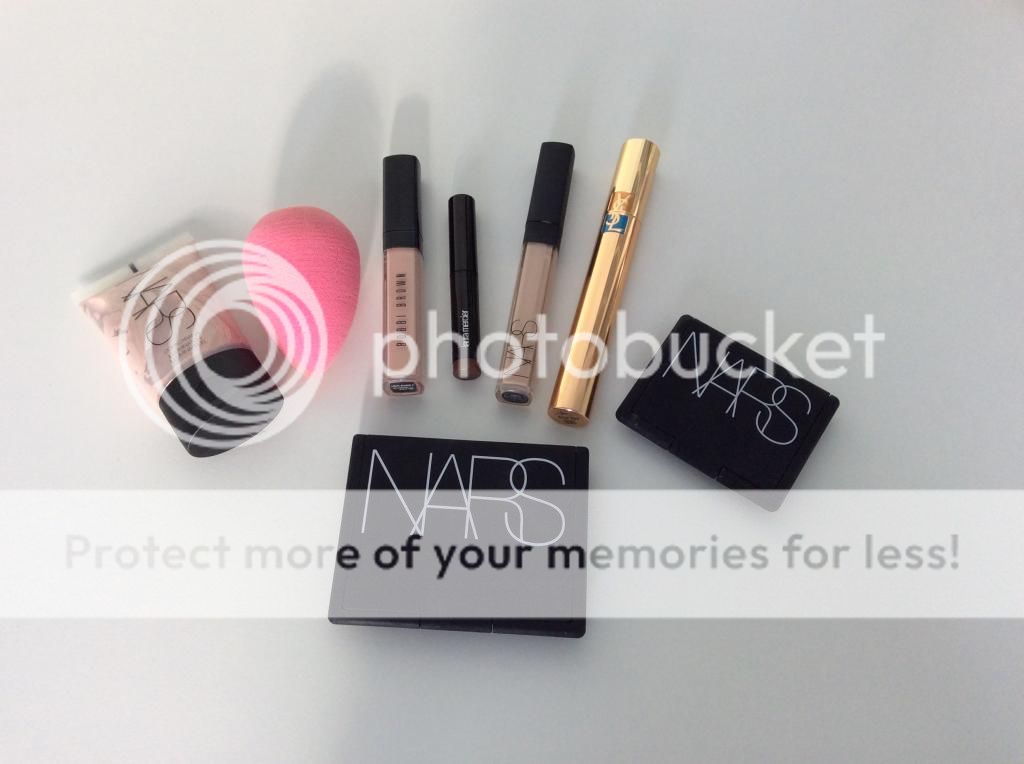 Bobbi Brown Tinted Eye Brightener £20
Nars Creamy Concealer

£22
This month I have been loving two different types of under eye concealer.
Bobbi's Eye Brightener is a lightweight formula, great for anyone just looking to brighten their under eye area. Ive been using this during the day when I don't want as much coverage.
Nars Creamy Concealer is exactly as it states 'creamy'. I've been wanting to try this for a while as I've heard amazing reviews and it definitely doesn't disappoint. On their website it says the coverage is lightweight to medium to high. I don't agree with it it being lightweight and would say it is medium to full. This concealer is great for anyone who needs a little extra converage to hide those dark circles.
Beauty Blender
I love love love this little sponge! Used damp it helps create a flawless finish when applying foundation. I doubt i'll change this for a while.
Nars Laguna bronzer £27
This bronzer has long been at the back of my mind. Ive watched numerous bloggers, youtubers and makeup artists rave about this product, I don't know why it has taken me so long to try it. The Laguna bronzer can be used to give a healthy glow or even contour the face. It is described as having a slight gold shimmer but nothing to worry about as it's very subtle.
YSL Luxurious Mascara Waterproof

£24.50
This used to be my all time favourite mascara but I stopped using it as it used to dry up really quickly and become extremely clumpy. However, they have re formulated it in a bid to stop this from happening, so I decided to give it another chance and i'm glad I did. So far i'm back in love, the new formula seems to prevent clumping while still achieving full on volume.
Nars Illuminator Copacabana

£22.50
Nars Blush Highlight Albatross

£22.50
I've been loving Nars this month having tried two highlight/illuminators.
The Illuminator in 'Copacabana' I used for the first time on a model and it looked amazing, her skin was glowing. This is a great product for achieving luminous radiant skin. It can be used under foundation, mixed with foundation or just on the cheekbones.
My second highlighter 'Albatross' was a complete impulse buy. I was originally going to get one by Laura Mercier but after my friend recommended it, it was quickly added to my basket. My picture doesn't do it justice but it creates a beautiful light reflecting glow to the skin. I apply it to the tops of my cheekbones.
Laura Mercier Caviar Sticks

£22
These I got in a set at Christmas and have used them constantly throughout January. They have a luxurious and creamy texture and blend beautifully. Perfectly suited to those days when you don't have time to spend blending eye shadow. A little bit smudged over the eyelid with your finger and your are ready to go.